Nancy Genevieve Perkins is a professor of writing and a writer; she publishes her creative work under her birth-names, nancy genevieve. By using these names, which were two of her great aunts' names, she signals that her creative writing is a life thread that pre-dates even her birth. As an educator, Nancy Perkins, Associate Professor of English and past Chair of the English Program at the University of Illinois at Springfield (UIS), has spent the last fifteen years in down-state Illinois teaching others to write poetry, fiction, and creative non-fiction. After having taught at Eureka College in Eureka, Illinois, for ten years, she joined the faculty of UIS in 2000, and since then, she has published two books of poetry: NYX: Mother of Light in 2001 and NYX: Daughter of Chaos in 2002 (NOX Press) and has co-authored a textbook, Adult Literacy in Writing in 2004 (New Forums Press). The third poetry book of the trilogy, NYX: Sister of Erebus, is anticipated in the near future.

Names and naming are important aspects of Nancy's creative work. The NYX trilogy is named after an ancient ancestress, a primal goddess of Greek creation mythology, who was the personification of Night. Each of the three poetry books focuses on one of the many aspects of that character.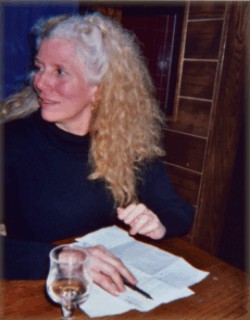 Taaffe's in Galway, Ireland
March 2004
Whether in poetry or in fiction or in non-fiction, images, characters, and stories have always been an integral part of Nancy's life. Recently her mother gave her a Gregg shorthand book, which had child-like scribbles next to the shorthand symbols. Her mother told her that when she was "a tiny girl, long before you started to school, you had thought this book was the way to learn to write, and you practiced 'writing' in it. Then you would 'read' me your stories."

Nancy has read her works and conducted writing workshops in myriad places, and her creative works have been published in numerous literary journals, including the San Fernando Poetry Journal, Just Write, Prism Galliard Quarterly, Fine Lines, Impressions, and ELM, and one of her stories, "Grad. Ass.", was nominated for an IL Council Award. Her writing credentials include serving as the editor for eleven volumes of Echoes, books researched, written, and published on local history by her students, and as a fiction editor for eight years of a literary journal. In addition to completing the third poetry book, Nancy is currently completing a history book on the first settlers of Woodford County, Illinois, several children's books, and a historical novel.
June 2006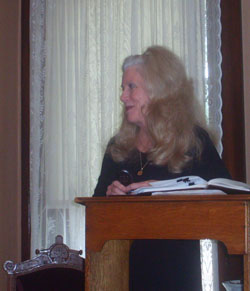 Poet in the Parlor, 2009
Vachel Lindsay Home
Springfield, Illinois
(Photo: Kris Ruebling)